The Atlas was a single stage ICBM, augmented with the Agena orbital-escape stage. At 300,000 pounds thrust, it had 1/3 the lifting power of the Molniia. Shown above is the 1962 launch of Mariner-1. The Centaur escape stage was a sophisticated advanced, powered by liquid hydrogen. Its development was troubled and long delayed, which forced a reliance on the small Agena system far longer than desired. Shown above is Pioneer-10 shortly before its 1972 launch. The Titan heavy launcher was substantially more powerful than the Atlas. Seen above is the 1975 launch of Mars probe Viking-1. At 3400 kilograms, it was the largest probe ever launched by the Americans (about half the mass of the Fobos probes launched to Mars by the Proton).
The Role of German Rocket Engineers
An interesting question is how much German V-2 rocket engineers, lead by Helmut Gröttrup, influenced Soviet designers. Perhaps the most expert opinion is from a man who knew and talked with these engineers after their return from Russia:
"German scientists taken into Russia were obviously not even aware of the large and extensive ballistic missile program that was going inside Russia. They did not, in any appreciable extent, actively participate in the hardware phase and missile development program in Soviet Russia."

-- Dr. Wernher von Braun, Congressional testimony, 1958
Nevertheless, both American and Soviet engineers learned from the V-2. In Russia, there was already a native body of expertise on rocketry, and Korolëv did not wish to partner with the Germans, who were sent home in the late 1940s. In America, the pioneering work of Robert Goddard was underappreciated by the military. After the war, America was initially more dependant on German expertise than the Russians. America also obtained the top German scientists and designers, while Gröttrup and his team were lesser technicians.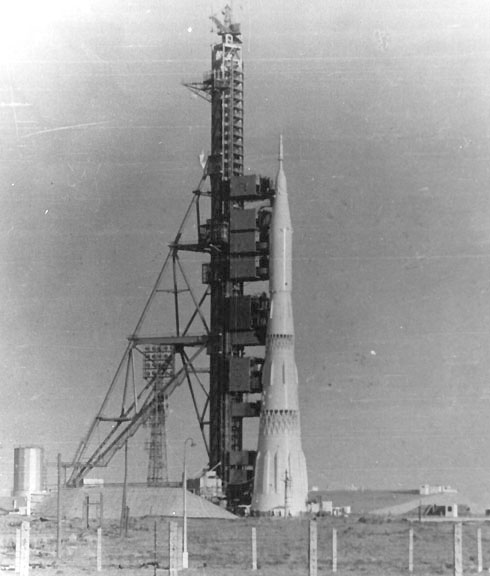 N-1, The Soviet Moon Rocket
The idea that Soviet accomplishments in space were due primarily to German expertise was a popular cold-war propaganda theme, and one anti-communist diatribe described the R-7 rocket as "five V-2 missiles welded together". Equally absurd statements are based on Gröttrup's drawings of the never-built G-4 missile.
The claim that the giant four-stage N-1 moon rocket was derived from the 24-meter G-4 are based naively on their similar cone-shaped appearance. Designing, building and testing a working rocket is an extremely complex undertaking, requiring thousands of technical experts working on hundreds of systems. For example, it was highly nontrivial to build rocket engines larger than the original V-2 motors. Problems included: fuel delivery, efficient combustion, cooling of the engine jacket, prevention of destructive oscillations, and prevention of explosive engine starts. By the time the N-1 was under construction, the knowledge and experience of Soviet rocket experts vastly outstripped what was known by the Germans in the 1940s. It is inaccurate and unfair to divert the credit for these achievements.
Biographies