As seen above, the signal strength faded gradually during the six-minute occultation. The absence of an abrupt cutoff meant the hard surface of Venus was not detected. Mariner-5's signal penetrated to a distance of 6085 kilometers from the planet's center, but how much deeper did the Venusian atmosphere extend?

A profile of the gas refractivity was computed by gradual adjustment until the measured signal phase delay was accounted for correctly. Density could be estimated from refractivity, if the chemical makeup of the atmosphere is known, and this information was provided by Venera-4. Now the atmospheric profile from Mariner-5 could be lined up with the measurements from Venera-4, and the two data sets matched.
The Kitt Peak Conference
In March of 1968, Soviet and American scientists gathered in Tuscon Arizona to compare and discuss results. They met again at the COSPAR meeting in Tokyo in May, The Physics of the Moon and Planets Symposium in Kiev in October, and the next year at the Symposium on Planetary Atmospheres and Surfaces at Woods Hole in August 1969. The major American and Soviet scientists were regularly meeting face to face, fostering the beginnings of communication, cooperation and mutual respect.
| Pressure | Radial Distance | Significance |
| --- | --- | --- |
| 7 atm | 6085 km | Deepest Penetration of Mariner-5 Signal |
| 18 atm | 6075 km | End of Venera-4 Transmissions |
| 75 atm | 6056 km | 1967 Radar Estimate of Venus Surface |
| 90 atm | 6051.8 km | Modern Measurement of Venus Surface |
It was ultimately agreed that neither Mariner-5 nor Venera-4 had detected the surface of Venus. However, Earth-based radar had probed the surface of the planet and provided estimates of its radius. Putting all the facts together, surface conditions of 427° C and 75 atm were extrapolated. For the first time, the true nature of Venus was known, fairly accurately and with confidence.
These conclusions were not reached without some dispute. At the powerful Ministry of General Machine Building, a committee had weighted early evidence and decided to announce that Venera-4 had landed. This was not as unreasonable as some Western historians suggest. Transmissions had ended well before the designed crush depth of the probe, the altimeter reading closely matched the calculated distance of descent, and temperatures were (just barely) within the limits of early hot-surface theories. But Kuz'min's new temperature calculations, the results of radar, and the measurements of Mariner-5 would soon contradict this conclusion.
The issue came to a dramatic head at the COSPAR meeting, when the world's two leading experts, Carl Sagan and Arkadii Kuz'min, debated the landing. Kuz'min's own experiments had proved that Venus was too hot to match Venera-4's final thermometer readings, but he suggested that it could have landed on an extremely high plateau or mountain. Sagan argued that the probe's batteries had run out before it reached the surface, and radar studies were not consistant with such mountainous terrain. Subsequently, Soviet news agencies announced that they had been mistaken, and Venera-4 had not reached the surface.
Ultimately, whether or not Venera-4 landed was mainly an issue of propoganda. The probe had achieved all its mission objectives. Previous Venus landers (2MV, Zond-1, Venera-3) contained surface radiation and motion experiments, designed at the Institute of Nuclear Physics. After them, Keldysh created the Space Research Institute and reorganized responsibility for experiments. Venera-4 to Venera-7 contained no instrumentation specifically for surface study.
Venera-5 and Venera-6
The 1138 kilogram V-69 spacecrafts contained a virtually identical bus with the same radiation, plasma and Lyman-α detectors as Venera-4. The 405 kilogram descent module was strengthened to withstand 450-g reentry forces, because the 1969 launch window required a higher velocity approach to Venus. Experiments in the descent capsule were updated to refine and extend the results from Venera-4:
3 Platinum-Wire Resistance Thermometers
6 Aneroid Barometers
Tuning-Fork Densitometer
Airglow Photometer
Improved G-8 and G-10 Gas Analyzers
FMCW Radar Altimeter
The chemical analysis experiments were improved. Given the atmospheric composition measured by Venera-4, more accurate analysis could be done within a narrower dynamic range. Six barometers were added to cover three dynamic ranges, each with duplicated sensors: 0.13-6.6 atm, 0.66-26 atm, and 1 to 39 atm. This would allow both temperature and pressure readings during the full expected lifetime of the mission. A new type of densitometer was designed to function over a wider range, 0.5 to 40 kg/m**3, measuring the amplitude of a 160 Hz tuning fork.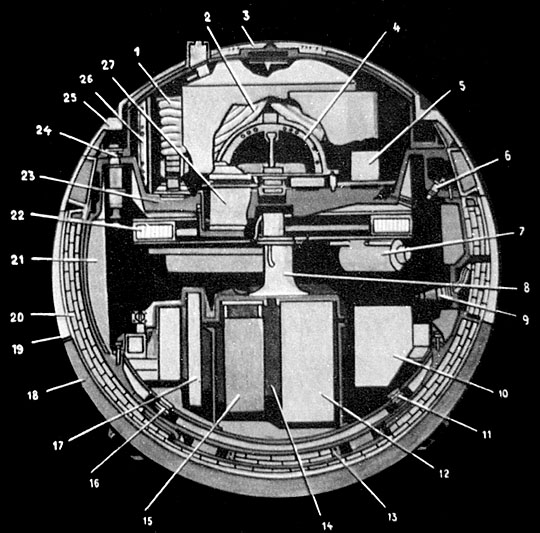 The layout of the Venera-5 descent vehicle:
drogue parachute
main parachute
explosive bolts of cover
transmitter antenna
gas density gauge
grooving charge valve
dehumidifier
circulation fan
electrical umbilical
commutation unit
accelerometer
transmitters
anti-vibration damper
power unit

onboard transmitter
accelerometer
program timing unit
heat shielding
heat shielding
external insulation
internal insulation
temperature control system
lid of instrument compartment
explosive bolt
cover of parachute compartment
radio altimeter antenna
gas analyzer
Venera-4 had floated down slowly in the unexpectedly dense atmosphere. When its telemetry signal stopped, it was probably because the 100-minute battery ran out, not because it was crushed. Venera-5 and 6 used smaller main parachutes, 12 square meters, to quicken their descent and monitor conditions down to the designed hull-failure pressure of 25 atm. No one expected these probes to reach the surface intact. Soviet planetary scientists at this time knew the surface pressure was 75-100 atmospheres.

The Venera-5 spacecraft was launched on January 5, 1969, and its sister mission Venera-6 was launched on January 10. They arrived at Venus on May 16 and 17 respectively. Venera-5 took chemical readings at 0.6 and 5.0 atmospheres, and Venera-6 at 2.0 and 10.0 atm.
Unit
Gas
Experiment
Venera-5
Venera-6
G-10
CO2
potassium hydroxide manometer
97 ± 4 %
> 56 %
N2 + Ar
reactive-gas manometer
< 3.5 %
< 9.5 %
O2
burnout of tungsten filament
< 0.3 %
H2O
P2O5 electroconductivity
> 4 mg/liter
H2O
calcium chloride manometer
~11 mg/liter
~6 mg/liter
G-8
CO2
potassium hydroxide manometer
> 60 %
> 30 %
N2 + Ar
reactive-gas manometer
< 4 %
< 2.5 %
N2 + Ar
reactive-gas manometer
< 4 %
< 2 %
O2
burnout of tungsten filament
> 0.1 %
< 0.1 %
O2
burnout of tungsten filament
< 0.1 %
< 0.2 %
H2O
P2O5 electroconductivity
> 0.7 mg/liter
> 0.7 mg/liter
Venera-4 was prepared for a wide range of possible atmospheric compositions, and in particular, nitrogen had been expected in great abundance. On Venera-5 and 6, the gas analyzers were reconfigured to refine the accuracy within narrowed dynamic ranges. Nitrogen (and other inert gases) was measured by removing all reactive gases (carbon dioxide, oxygen, water). Extra experiments were performed to pin down the amounts of water and oxygen. More accurate manometer readings were obtained by transmitting a pressure reading at the moment of analyis, and Venera-6 was set to start analysis at a higher pressure.
The final result deduced from all the measurements of Venera-4 to 6 was: carbon dioxide 97±4 percent, nitrogen less than 2 percent, oxygen less than 0.1 percent, water vapor 6 to 11 mg per liter.
Again, data was telemetered at 1 bit/sec. A system of relays and commutators controlled the multiplexing of information, triggering one-time messages like a chemical analysis experiment, and periodically sampling the continuous sensors and internal housekeeping. At intervals of 45 seconds, over 70 temperature and 50 pressure readings were transmitted.
Spacecraft
Temperature
Pressure
Altitude
Venera-5
177° C
6.6 atm
36 km
266° C
14.8 atm
25 km
327° C
27.5 atm
18 km
Venera-6
188° C
6.8 atm
34 km
294° C
19.8 atm
22 km
The radar altimeters were improved by adding three frequency-difference filters that trigger altitude messages. These were designed to correspond to altitudes of about 35, 25 and 15 kilometers (modulo an ambiguity of about 30 km). The published temperature and pressure readings the corresponded to altimeter messages can be compared with the modern Venus atmosphere model, to see what the altitudes actually were. The results appear fairly normal and consistent, given the accuracy of about ±1.3 km.
At the time, there was controversy about altimeter readings, and it was thought that Venera-5's altimeter readings corresponded to 45, 35 and 25 km. The 10 or 11 km discrepancy could not be explained, but was probably due to the less accurate atmospheric model of that time, and possibly to confusion about which altimeter filter was reporting. Like Venera-4, in the final analysis, the radar altimeters behaved normally.
Both probes survived for a little over 50 minutes, reaching levels where the temperature was about 320° C and pressure about 27 atm. Telemetry showed the inside temperature climb from 13° to 28° C -- the probes were cracked open by pressure well before being cooked. Venera-5 eventually came to rest at 3° S, 18° E, and Venera-6 landed at 5° S, 23° E.
Venera-5 and 6 landed on the night side of Venus, in the center of the visible disc of the planet. However, they did contain photometric sensors. Astronomers have observed that the night side of Venus occasionally glows, a phenomenon called Ashen Light, which is still a controversial mystery. The photometers registered darkness except for one reading from Venera-5, four minutes before it went silent, reporting 50 times the light level of all other readings. Possibly the first evidence of lightening, or a transient effect of the capsule's breech.