Changes also included more redundancy in the attitude control system and transmitters. A thermal protection cowl around the KDU-414 vernier engine and fuel tanks were added, and a black shield between the star sensors and the craft to prevent interference from reflected light (the shield may have only come into use after early 3MV tests).

The orbital module contained the 14-volt power system, including 112 amp-hours of NiCd batteries charged by the solar panels. It also contained 32-cm and meter-band transmitters, 39-cm and meter-band receivers, two stabilized crystal oscillators for subcarrier generation, two telemetry tape recorders, the attitude control system, commutation units, switches, etc.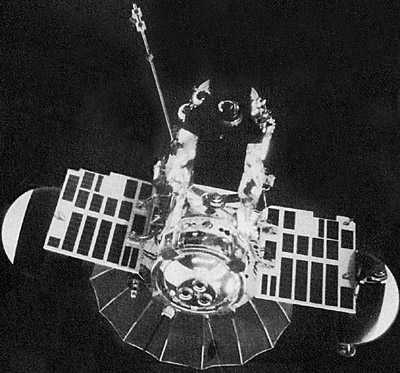 The special instrument module, for fly-by missions, contained a new camera system designed by A.S. Selivanov. It weighed only 6.5 kilograms and used 25.4 mm film. Redesign of the impulse transmitter and the modulation scheme increased image transmission time by a factor of 4 over the Mars-1 style camera. 40 pictures could be stored on the film and repeatedly rewound, by command, to be scanned and transmitted at several different speeds and resolutions. Note the three portholes at the end of the module, for cameras and spectrometers.
The instrument module also contained a 5-cm impulse transmitter, an 8-cm continuous-wave transmitter (either of which could be used to send image data), a tape recorder which was part of Lebedinskii's IR spectrometer, and backup versions of the command receiver, program-timing unit, subcarrier oscillator and other electronics that can operate the mission in case of a serious failure in the orbital module.
The 90-centimeter spherical descent capsules contained batteries, two 32-cm transmitters, program-timing units and two crystal oscillators. The Mars lander contained a tape recorder.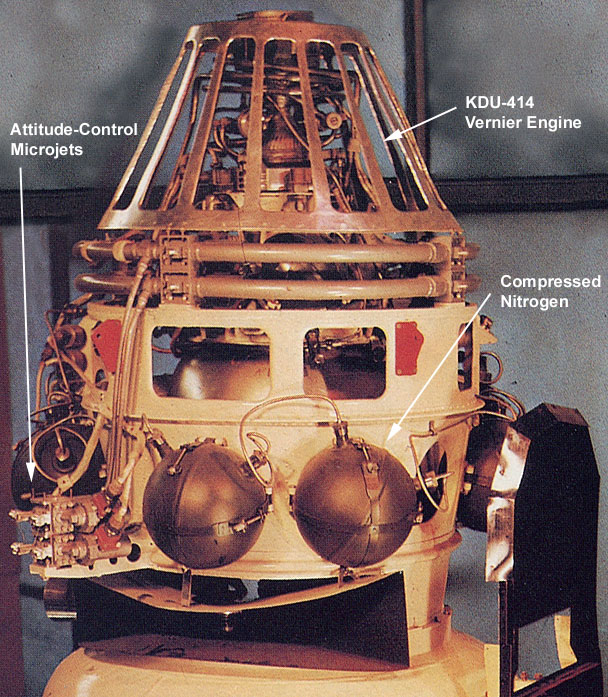 Venera-3 Vernier Engine and Attitude Control System
The 200 kilogram-force (440-pound) vernier engine, KDU-414, was used by planetary probes from 1M to Venera-8. Designed by A.M. Isaev's bureau, the engine and fuel tank assembly is one meter long. For the 3MV missions, the KDU was outfitted and fueled for 2 corrective burns, with a maximum total impulse of 10,600 kgf-sec. The length of an engine burn is determined by an integrating accelerometer, cutting off the engine when a programmed velocity delta is achieved. The engine is mounted on steering gimbals, and a control system governed by an inertial gyroscope maintains a straight trajectory.
The spherical bottles mounted on the engine cowl contained nitrogen gas at 320 atmospheres pressure. Reduced to 2 or 6 atm, it is fed to microjets producing pulses of thrust for the attitude control system. One advantage of using nitrogen jets instead of small liquid-fuel rocket motors was the lack of exhaust and ice crystals, which could interfere with the navigational star sensors. About 300 grams of nitrogen per month were expended to maintain normal spacecraft functions.
3MV Test Flights
A test launch of a 3MV-1A was made on November 11, 1963, with a plan to launch on a simulated Mars mission (the time was not right for a real trajectory opportunity to the planet). A failure of the escape stage left it stranded in orbit, and it was designated Kosmos-21. On February 19 1964, another 3MV-1A test was attempted to simulate the Venus flight plan. A third-stage engine failure prevented it from reaching orbit.

These were light-weight test vehicles with no planetary-encounter experiments. They had plasma jets which were later tested on Zond-2 and Zond-3 missions. Experiments were included for testing mechanical friction of gears, materials and lubricants in space, also included on later Zond and Luna missions in preparation for the complex rover and sample-return missions. The also had the usual deep-space scientific experiments: sensors of cosmic-rays, solar plasma, micrometeorites, magnetic fields. The early test flights (but not the real planetary probes) were also reported to have solar x-ray/UV experiments, built by S.L. Mandel'shtam.

It is not clear if a 3MV-4A vehicle was ever built. Some reports claim that Zond-2 and/or Zond-3 were 3MV-4A rather than 3MV-4, but the distinction may be meaningless. The actual missions launched probably all varied somewhat from the original plans in the above table of six 3MV models. Zond-2 contained some experiments planned for 3MV-4A (e.g. plasma jets), but it was also a real Mars mission, launched during a real trajectory opportunity. Mars probes were modified for Venus missions, etc.
Zond-1
Two Venus attempts were made in the late-March 1964 launch opportunity, both carrying descent modules (3MV-1). One launched on March 27 was stranded in parking orbit (Kosmos-27), but the second spacecraft, Zond-1, was successfully launched toward Venus on April 2. Shortly after takeoff, it began to lose pressure in the orbital module. From the slight thrust caused by the escaping gas, and subsequent spacecraft motion, it was determined that the leak was coming from the region of the quartz dome of the sun/star navigational sensor. The systems in the orbital module might have continued to function in a complete vacuum, but the radio switched on while there was still a rarified atmosphere in the compartment, and corona discharges damaged the electronics.

The descent capsule retained pressure, and good back-up design allowed its transmitter to drive the spacecraft's telemetry system. Consequently, space science experiments were able to relay data, including cosmic ray measurements by Vernov's sensors in the orbital module, Lyman-α readings by Kurt's spectrometer, and primary proton measurements by Avdiushin's radiation detector in the descent capsule. Experiments on the spacecraft bus included:
Magnetometer (Dolginov)
Micrometeorite Detector (Nazarova)
STS-5 Gas Discharge Counter (Vernov)
NaI Scintillation Counters (Vernov)
Lyman-α Atomic-Hydrogen Spectrometer (Kurt)
Ion Traps (Gringauz)
Experiments in the descent capsule included:
Anti-Coincidence Counter (8 STS-5 tubes) (Avdiushin)
Temperature, Density, Pressure Sensors (Mikhnevich)
Chemical Gas Analysis, Conductivity, Acidity (Florenskii)
Photometer & Mercury Level (Lebedinskii)
The Zond-1 capsule was designed to land on the night side of Venus. A photometer sensitive from 0.001 to 10,000 lux with logarithmic encoding was designed by Lebedinskii and Krasnopol'skii to measure possible nighttime airglow. The anti-coincidence gamma-ray detector was similar to Lebedinskii's on the 2MV lander, but was also used to measure primary cosmic rays during the flight. The experiment described as "electrical conductivity of environment" might have been the electro-conductivity hydrometer later used in Venera-4's gas analyzer.

Telemetry was received from April 2 to May 16. Two course corrections were made on May 14 at a distance of 13 million km, but an attempt to make a final correction on May 30 was unsuccessful, and contact with the probe was lost. It is sometimes speculated that Zond-1 could have impacted Venus, but Soviet experts believed it missed by 100,000 km.