The synthetic aperature radar (SAR) performed a series of radar looks, illuminating a spot on the surface for 3.9 milliseconds with a beam of microwaves. During this interval, the beam was modulated by 20 cycles of 127 phase shifts, and the reflected signal was digitized into 2540 complex numbers (4 bits real, 4 bits imaginary). Recording phase and magnitude information, these radar looks were sometimes called "radio holograms". A radar look was taken every 0.3 seconds and stored in a RAM memory buffer. To keep up with this data rate, recording alternated between two onboard tape recorders.

On Earth, a 2540-byte radar look was analyzed by computer. Digital filters separated the signal into time delays, dividing the radar spot into 127 ranges across the track of the radar beam. Fast Fourier transforms separated doppler shifts caused by the spacecraft motion, dividing the spot into 31 ranges along the track. Resolution was greatly increased by properly processing the signal over the 3.9 millisecond interval, as the moving spacecraft swept out a 70-meter virtual antenna. This processing is called coherent, because operating on complex values can simulate wave interference effects. The final result from processing a radar look was a 31 × 127 pixel image.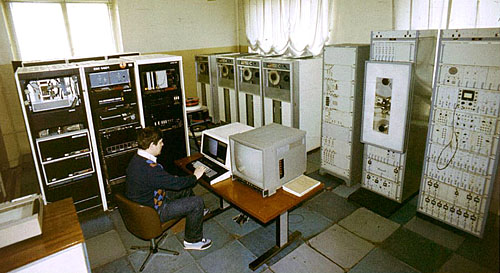 Computer System For Processing Venera Radar Data
3200 radar images from an orbital pass were combined into a survey strip of 195 × 10000 pixels. Typically 6 to 14 images would overlap at each element on the surface. Now only the real-valued image magnitudes were being averaged together, not coherent combination, and this served to reduce speckle noise. Speckling was a natural result of viewing the surface with coherent microwave radiation, just as objects illuminated by laser light appear speckled and grainy. Processing was performed at Rzhiga's institute using a pair of SM-4 minicomputers and a 20-mips special Fourier Transform Processor (SPF-SM).
The SPF-SM was developed at the Institute of Electronic Control Computers, under the leadership of Iu.N. Alexandrov. It appears to be closely related to their PS-2000 super computer, consisting of an SM host processor (a Soviet variant of the PDP-11) and a SIMD parallel math co-processor. PS-2000 co-processors could be configured for up to 200 mips.

Section of Venera-15 SAR Survey Strip
The Venera satellites were placed in elliptical polar orbits, with a minimum altitude of 1000 km above 62° N latitude. During close approach, 16 minutes were spent gathering data from near the north pole down to about 30° latitude. The survey strips were about 120 km wide and 7500 km long. Later in the 24-hour orbit, the 3200 gathered radar looks were transmitted to Earth, a total of 8.1 megabytes plus altimeter and IR-spectrometer data. The Soviet Union did not have a global deep-space communications network, so the spacecrafts had to maintain a 24-hour orbit, synchronized to be in radio line of sight with Evpatoriia every day. Several course corrections were made to maintain the shape of the orbits.
The plane of an orbit remains fixed in space, but Venus rotates 1.48° every 24 hours, allowing the entire polar cap to be scanned during the mission, from November 11 to July 10. Initially the orbital planes of the two spacecraft's orbits was 4° apart. While Venus was out of radio contact behind the Sun, a portion of the surface was not mapped. Later, Venera-16's orbital plane was changed by 20° to scan the missed section.
Venera Mosaic of Lakshmi Planum & Maxwell Montes
The individual survey strips were joined into mosaics with image processing to form a complete map of the northern cap of the planet. A catalog of 27 mosaics were assembled, each about 4000 to 5000 pixels wide, in Lambert-Gauss conformal projection. The slopes of Maxwell Montes are seen on the upper right, with the giant crater Cleopatra. Maxwell was initially believed to be a volcano. Russian geologists, using Venera-15 images, asserted that it was actually a mountain pushed up by tectonic pressure, with a large meteorite impact crater near its summit. After years of controversy, Magellan images proved them right.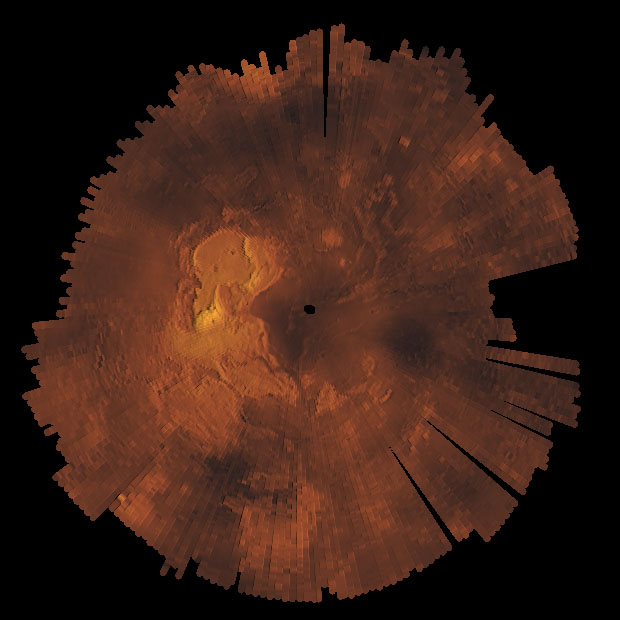 Stereographic Map of Venera-15,16 Altimetry Data
The radar altimeter pointed directly down at the surface beneath the spacecraft and produced an altitude estimate with an accuracy of 50 meters. The footprint of the altimeter beam was about 70×40 km wide on the surface (along track × cross track). For the first few weeks (up to November 28), a low-resolution mode was used, with the 127-element phase modulation. This yielded a long ambiguity distance of 29.3 km.
After the orbits of the satellites were accurately determined, the altimeters were switched to high-resolution mode. A 31-element phase modulation was used, with an ambiguity of 7.15 km, and Doppler frequency analysis narrowed the effective footprint to 10×40 km.
Over 415,000 altimeter readings were gathered during the lifetime of the mission. This data is displayed above, with some systematic error in orbital data that the author will attempt to correct someday. The high (yellow) mountain to the left of the north pole is Maxwell Montes, a giant volcano and the highest feature on Venus.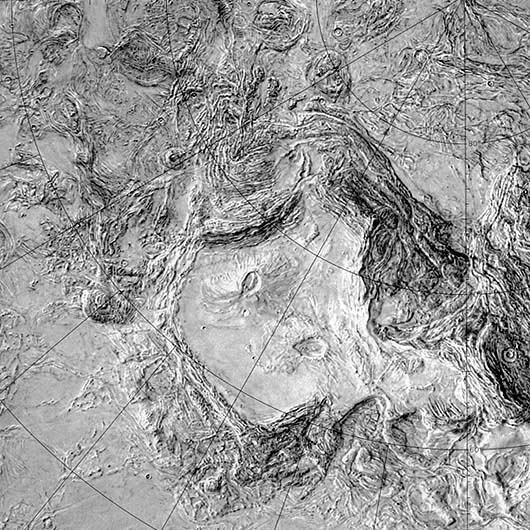 Cartographic Synthesis of Venera Data
The combination of altimeter data and radar imaging allowed Russian cartographers and geologists to produce the first maps of Venus that showed its surface with enough detail to accurately analyze the planet's geomorphology.
Seen above is the singular structure of Lakshmi Planum, a high plateau of lava surrounded by mountains, including Maxwell Montes on its eastern side. Russian geologist A.A. Pronin proposed that Lakshmi is a giant corona, formed by an upwelling of the underlying mantle of Venus. Brown University geologist J.W. Head, a guest scientist on the Venera mission, proposed an alternative hypothesis, that Lakshmi is formed by a confluence of compression forces in the surrounding crust.