The 598 kilogram Pioneer-12 was launched on May 20, in a costly Type-II trajectory that would permit it to enter orbit. It did so on December 4, using a 150 kilogram solid rocket motor. It was a spin stabilized cylinder 2.5 meters in diameter, with a despun parabolic antenna allowing a 2048 bits/sec telemetry rate. The orbiter contained 12 scientific sensors, including a radar mapper. The Pioneer radar altimeter returned over 127,000 height measurements, giving an altitude map of the hard surface of Venus. Earth-based radar images of Venus were becoming higher resolution by this time, but the range Doppler method did not yield accurate elevation data. These results are discussed in more detail on the radar mapping page.

The 904 kilogram Pioneer-13 was launched on August 8 and arrived on December 9. It ejected four atmospheric descent probes. Three small probes carried a thermometer, barometer, accelerometer, photometers and a backscatter nephelometer. They were deployed on the day side, night side, and one near the north pole. One large probe also carried a gas chromatograph, a cloud particle-size sensor, and a mass spectrometer. The clouds and atmosphere below proved to be surprisingly uniform, with the four probes giving results similar to Venera-9 through 12.

The Pioneer Venus orbiter operated for a remarkable length of time, from December 1978 until October 1992. The orbiter was not positioned to relay telemetry, as the Venera missions did. The Pioneer-13 probes transmitted directly with semidirectional antennas at 16 bits/sec (small) and 256 bits/sec (large). While this meant the return of only about 1 percent as much data as Venera-11 and 12, it was valuable information. In particular, the north polar probe is the only sounding of the Venusian atmosphere at a very high latitude.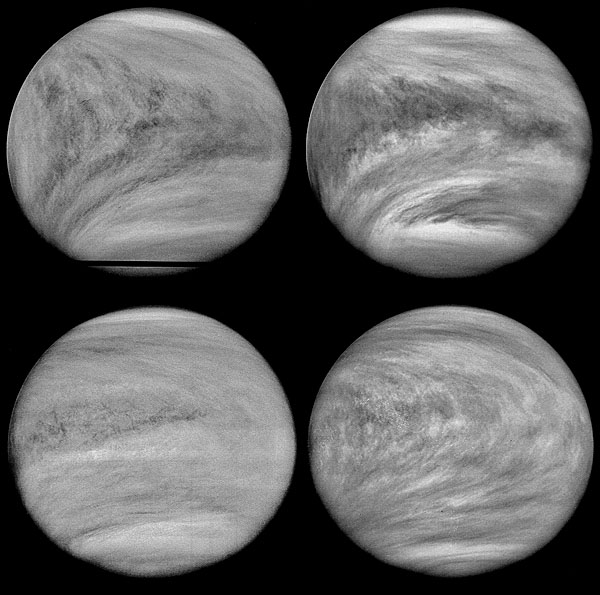 The 4-Day Superrotation of the Venusian Atmosphere
The photopolarimeter on the orbiter measured the color and polarization of light at a small spot. Using the rotation of the spacecraft and its orbital motion, the planet was scanned to create images with a maximum resolution of 30 kilometers. This permitted a long-term survey of global atmospheric dynamics. Above are images from four consecutive days (Feb 15-18, 1979), about the period of atmospheric superrotation.
A particularly interesting result from the large descent probe was the measurement of cloud particle size. Marov had deduced that the distribution of droplet sizes was multimodal, and Pioneer showed there were three peaks in the distribution (called Mode 1, 2 and 3). 80 percent of the mass of the clouds was reported to be Mode 3, in the lower layers. Furthermore these cloud particles appeared to be non-spherical, probably crystals of unknown composition. This finding was has not been exactly corroborated by later experiments by Vega landers and remains controversial today.
At about 12.5 kilometers, all four probes reported damage to some subsystems, anomalous housekeeping data and sensor readings. A special workshop later reached conclusions that hint at unexplained properties of the deep atmosphere of Venus:
Chemical interactions caused oxidation of titanium and harness materials.
Electrically conductive material condensed and caused short circuits.
The probes may have become enveloped in a plasma.
Electrical discharges on probe surfaces may have ignited some parts.
Venera-12 also experienced anomalous readings from its GROZA sensor and unusual phase shifts in the Doppler radio measurements at these altitudes.
Venera-13 and Venera-14
Skipping the 1980 window, Venera-13 and 14 were launched in 1981. They would complete the missions attempted by Venera-11 and 12 and perform new experiments.

The spacecraft bus had a somewhat reduced complement of experiments, that included a magnetometer and solar wind sensors. Vernov's group installed the ASP-8M, an updated version of their Venera-11 cosmic-ray experiment. New versions of the SNEG and Konus experiments were included, to study solar and galactic gamma-ray bursts.