Ballistic Interplanetary Trajectories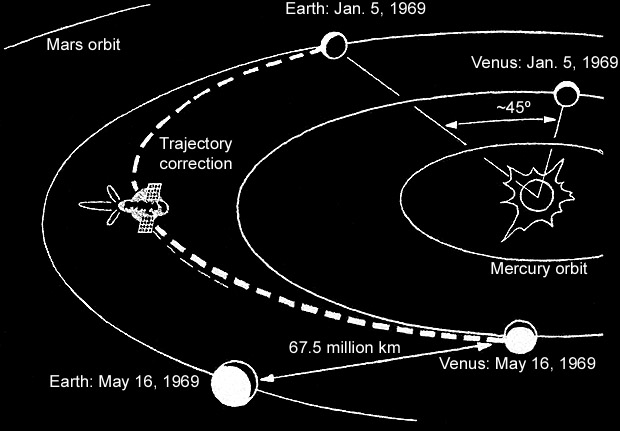 To first approximation, the optimum trajectory is an elliptical Hohmann Orbit, tangent to the Earth's orbit at aphelion and tangent to Venus' orbit at perihelion. Every 583.92 days (the synodic period of Venus) a launch window occurs, during which nearly optimal paths can begin at Earth and arrive at Venus. The diagram above illustrates the flight plan of Venera-5.
| | | |
| --- | --- | --- |
| 1967, Jun 11 | 142 days | 3.2 megajoules/kilogram |
| 1969, Jan 12 | 127 days | 3.8 megajoules/kilogram |
| 1970, Aug 17 | 117 days | 4.2 megajoules/kilogram |
| 1972, Mar 27 | 112 days | 6.1 megajoules/kilogram |
| 1973, Nov 9 | 107 days | 6.7 megajoules/kilogram |
Every 5 synodic cycles, the relative configuration of Earth and Venus repeats almost exactly. This is called the metonic cycle. Because planetary orbits are not coplanar or perfectly circular, launch windows have different associated flight durations and payload costs.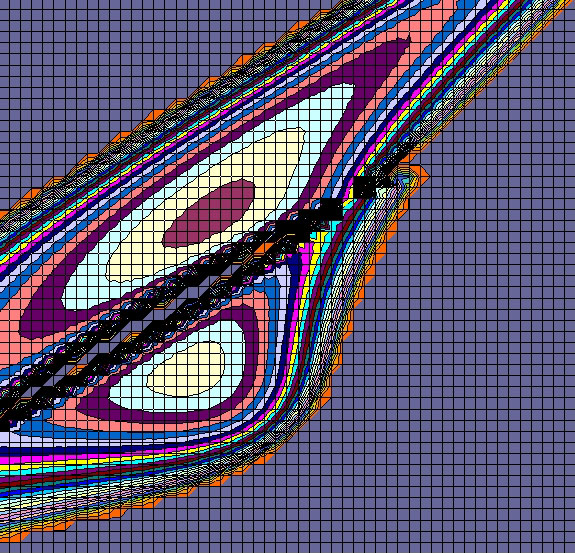 The orbit of Venus is nearly circular, but its large angle of inclination primarily accounts for differing mission costs (for Mars, the major issue is the eccentricity of its elliptical orbit). The plot of launch date versus arrival date, sometimes called a pork-chop plot, shows payload costs during the 1972 opportunity. The optimum launch date was March 27, requiring 112 days and 6.1 megajoules per kilogram of payload. The Soviet Union made two Venus launches that year, on March 27 and March 31.
As seen above, two local optima exist, a shorter Type I trajectory, which goes less than halfway around the Sun, and a longer (Type II) trajectory. In 1972, a cheaper Type II trajectory left on April 4, took 170 days and cost 4.1 megajoules per kilogram. Type I trips result in communications distances of around 60 million kilometers between Venus and Earth, upon probe arrival. Type II trajectories were not used for fly-by or impactor missions because the communications distance would be several times greater.
When saving energy is important or launch scheduling is constrained, longer orbits may be used. For long-term orbiter missions, it is also less critical to optimize for arrival distance. For example, Pioneer-13 was send on a Type II path and required a large solid-fuel retro rocket to slow it to orbital speed, during that year's energetically unfavorable trajectory. Magellan reached Venus via a Type IV trajectory, going one and a half times around the Sun.
Venus Missions